Thought I'd join Amy Lemon's "Tell Me More" Linky Party
. It's a perfect party for a blog newbie like me! You can join too! Click on the "Tell me more" picture to link to Amy's blog.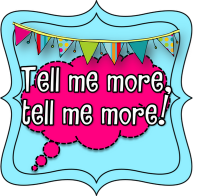 1. I married my best friend two years ago. We started dating when we were in high school 10 years ago, and we're still happily ever after!
2. We don't have any kids yet, but our 5 year old lab keeps us busy! He's the best bad dog ever, and he's super cute! This is a picture of him shopping for a new baby on his 5th birthday.
3. I'm a figure skater. I skated for about 5 years when I was younger. I was even on a competitive synchronized skating team! I quit when I was a freshman in high school, so I could be on my school's dance/drill team. Last year (ten years later), I spontaneously decided to take figure skating lessons again. I'm not quite where I was ten years ago, but I'm getting better!
4. One day, I'm going to save elephants.